Two years ago, bad weather was expected on Halloween night and many cities and counties postponed Halloween trick or treating until November 1st or 2nd. Some families were very excited about this because for one reason or another, this made their schedules work better for the week or because it moved Halloween to a weekend night, not a school night. Other parents were upset by this move for various reasons. My friends from California were just shocked that Halloween could be "moved" to another date or time, "We trick or treated in the rain…"
(Places to trick or treat or celebrate tonight –  inside, outside and in between)
The thing is that many people won't trick or treat in the rain and while you might think, "big deal, it's just Halloween", it is sort of a big deal. One night each year, ONE NIGHT, people leave their homes and take their children and visit families in the community. They knock on doors they don't normally knock on, they say hello to people they never see, they share small gifts of chocolate and treats with strangers.
Halloween isn't about the candy, it's about the connection.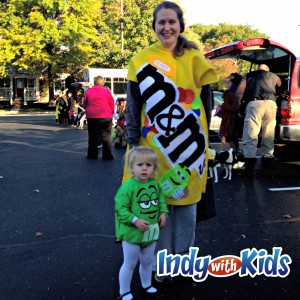 Trick or treating is sort of a dying tradition and this makes me sad. Many parents opt to take their children to festivals and trunk or treats or "safe" Halloween celebrations in lieu of connecting with their immediate community and neighborhood. I'm thankful for the organizations that provide those opportunities on nights other than Halloween because I love that brief second that goblins stand at my door and receive a gift from my daughter. I love the creativity that still exists with homemade costumes on parade along the sidewalk. I love the "Hi", "Hello", "Good to see you", "How've you beens" that echo along the cul de sac.
I'm thankful when people take the time to remember that their job is about the community — and once a year, Trick or Treating is a community building tradition that takes place at almost every door, an open invitation. If you
didn't plan on handing out candy this year or you are bothered by schedule changes, please have a change of heart. This is your community, this is your neighborhood. It's generally positive and it's fun and it's something we can all do together.
If you live in Central Indiana, here is a list of the Trick or Treat dates and times.