Restaurants
The Italian House on Park
219 Park Street, Westfield
This restaurant is the perfect romantic escape for you and your date. Located in the newly dubbed "Restaurant Row," the Italian House is here to offer a unique experience for your Italian dinner. The restaurant is actually in a house and provides an intimate cozy touch to your meal. They are open for dinner Tuesday through Saturday.
The Local Eatery & Pub
14655 Gray Road, Westfield
The Local Eatery & Pub prides itself on a sustainable dining experience. You are sure to have a delicious meal here with popular choices like the baked goat cheese, salmon flatbread, or the Old Smokey burger. Farm to table and seasonal ingredients are a huge part of the mission of The Local.
Grindstone on the Monon
17470 Wheeler Road, Westfield
Grindstone on the Monon does an excellent job of taking old recipes and revamping them. Here you will find a wide range of dishes one the menu including a pork tenderloin sandwich, Hoosier Hot Plate, salads with Green Goddess dressing and even a fried bologna sandwich. But you will also see seared scallops, steaks and glazed salmon. It is all about honoring the Hoosier experience and making you feel like home.
Pasto Italiano Bar & Restaurant
3150 East IN-32, Westfield
You may be looking for a cozy Italian restaurant to dine in for date night. You might be on the hunt for ½ price wine. You can find both at Pasto Italiano. On Wednesdays, enjoy half-price bottles of wine and listen to live music. Here you will find all of the classic Italian dishes you know and love. Caprese salad, linguine with clams, and lasagna; it is all here and delicious!
Chiba Indy
228 Park Street, Westfield
Another restaurant located on Restaurant Row is Chiba, a sushi restaurant that is inside a house on Park St. The owners have expertly utilized the space with outdoor patio seating and beautiful landscaping. The atmosphere inside is beautiful as well. More importantly, the food is out of this world amazing! If you love sushi, you need to go here. The rolls are exquisitely presented and the menu has a wide range of options.
Outdoor Activities
Birdies
632 E. State Road 32, Westfield
If you are looking for a low pressure fun date head over to Birdies. Here you will find an outdoor mini golf course and sports bar style restaurant. You can choose to play 18 holes or 36 holes depending on what you are into. There are also plenty of places to hangout and relax outside and a rooftop deck.
Historic Ghost Walk Tours UnseenPress
Westfield
Sure, you could snuggle up on the couch with your date and watch a scary movie or you could try something new and go on a ghost walk tour. UnseenPress will lead you on an educational and entertaining tour where you will learn about the history and folklore of the area. There are a few tours offered throughout the central Indiana area. The Westfield tour focuses on the Underground Railroad where you will learn about stories, mischief, and spirits from long ago.
Macgregor Park
Macgregor Park Road, Westfield
My husband and I love to go hiking. Being in nature is good for the soul. The distractions of the world around you fade and you are presented with a great chance to connect with your significant other. Macgregor Park has wonderful trails to go out and explore. There are also plentiful amounts of flowers that bloom in the spring and summer. Take a picnic dinner and enjoy the great outdoors.
Monon Trail
1155 E. Greyhound Pass, Westfield
The Monon Trail has been expanded as far north as Sheridan and is a great way to incorporate an active component to your date. Parking at the Greyhound Pass Parking Lot is a great middle point. From here you can travel north or south and enjoy the scenery on your way to dinner. There are some other pathways that venture off of the Monon leading you to some of Westfield's most popular parks like Quaker Park.
Midland Trace Trail
17501 Dartown Road, Westfield
The Midland Trace Trail is a great alternative to the Monon if you are looking for a shorter bike ride through Westfield. This pathway has and will continue to be extended but has an easy access point at Quaker Park. It is currently 3.75 miles long.
Indoor Activities
The Arctic Zone Iceplex
16616 Southpark Dr, Westfield
Westfield offers an indoor ice skating rink perfect for a date night when you want to try something new. Ice skating is relatively easy to pick up and all equipment can be rented from the facility. Bring along a coat and gloves, it can be pretty chilly! Make a reservation for an open skate or cosmic skate time.
Main Street Productions/ Westfield Playhouse
220 N. Union Street, Westfield
In 2020, Westfield Playhouse moved into a new beautiful building that will house their productions in a small and inviting way. There are 2 shows that will run during the Spring Season; Squabbles in March and Silent Sky in May. Pair a show with one of Westfield's great restaurants for a wonderful date night.
The Wandering Peacock
227 Jersey Street, Westfield
Located in a home, The Wandering Peacock is a hidden gem and it is a beautiful gem. This pottery studio is decorated with a Bohemian theme and provides a warm and inviting space to learn to throw pottery. There are a variety of class and options to choose from including date night classes. There is great value in these classes, you will learn a ton and also get to bring home 3 completed pieces.
Cone + Crumb
205 Park Street, Westfield
This ice cream shop and bakery is sure to have something for everyone, cakes slab pies, and even vegan and gluten free options are available. With inventive ice cream flavors such as sugar cream pie and coconut latte, you and your love will come back time and time again to try new desserts.
Titus Bakery and Deli
17471 Wheeler Road Suite 110, Westfield
Titus Bakery has been serving up amazing donuts and pastries for years. This is another great place to pop in for a dessert after a nice dinner out. After dinner donuts are a thing, right? They also have cookies and other pastries to choose from. If you aren't in the mood for sweets, try out a deli sandwich and take it to a local park for a picnic date.
Local Drinks
Field Brewing
303 E. Main Street, Westfield
Field Brewing has a beautiful bright and airy space to share with your date. This place is awesome and should be high on your list of date night spots to check out. Field Brewing kind of does it all, craft beer, an interesting menu, cocktails, wines, brunch and coffees. They work with local farmers and artisans to provide patrons with high quality dishes and beverages. You can also rent a greenhouse for the night! Similar to the igloos popping up around central Indiana, a greenhouse provides you with an escape from the hustle and bustle of the main restaurant giving you and your date a chance for the sparks to fly.
Urban Vines
303 E 161st Street, Westfield
Urban Vines has become a very popular destination in Westfield and for good reason. Long before socially distanced dining was a thing, Urban Vines launched igloos for you to enjoy with your small group or for a date night. The igloos have heaters, lights, and music! Urban Vines specializes in small batch wines and beers using the freshest ingredients they can find. Live music is plentiful here as well as trivia and bingo nights if you are looking for something more competitive to do.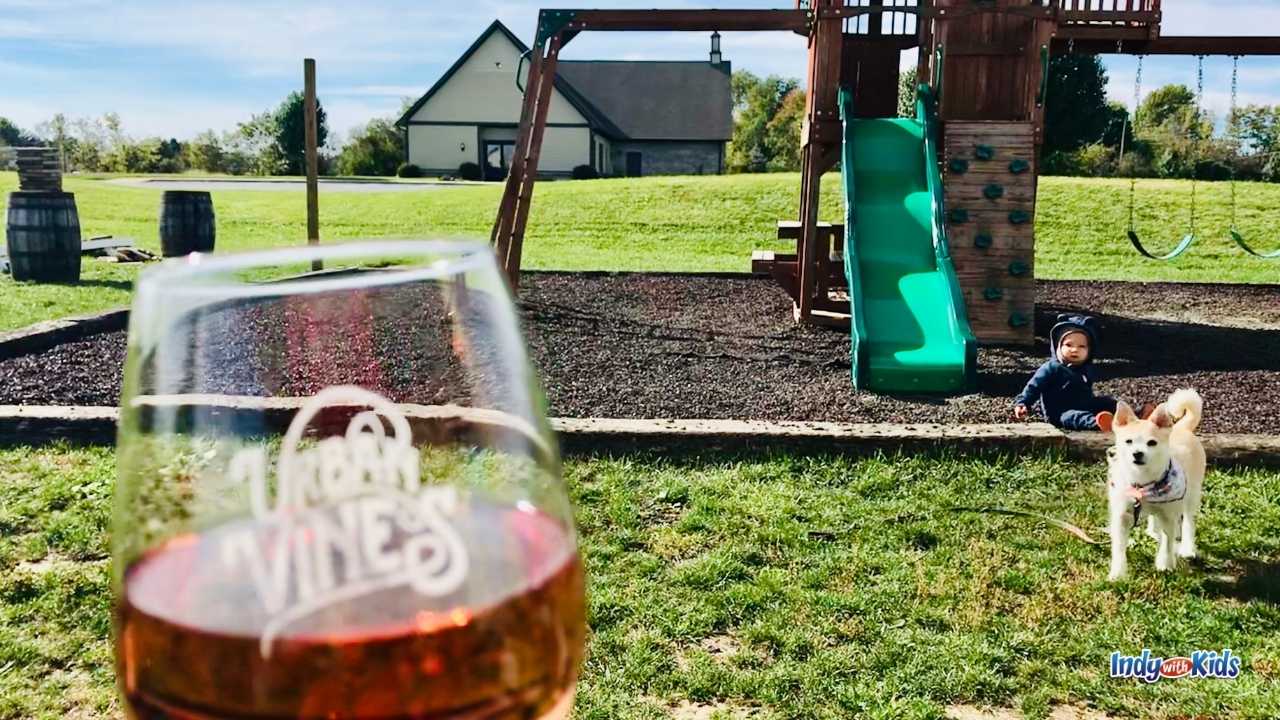 Westfield Wine Vault
100 N. Union Street, Westfield
Westfield Wine Vault is finally open and deserves to be checked out. Opening during a pandemic is not for the faint of heart. If you are looking for a beautiful night out, look no further. Select a wine flight served in a cascading wine display from a perfectly curated list of wines, or order by the glass or bottle. If wine isn't your thing, beer is available as well. A menu perfect for wine pairings is served with charcuterie boards and dessert boards.
1205 N Distillery
120 Camilla Ct, Suite A, Westfield
1205 Distillery has opened a second location here in Westfield. If you and your date are looking for interesting cocktails to try out, 1205 Distillery is the place to do it. Vodka, Gin, Whiskey, and Bourbon are all highlighted here and the cocktail menu will have you intrigued to try something new. The cocktail menu changes with the seasons so you can always find something that you haven't had before.
Grand Junction Brewing Company
1189 E. 181st Street, Westfield
Grand Junction is located in an old logging company building near Grand Park. As you may have guessed from the name, Grand Junction honors the Monon and Midland Railroads, in addition to the history of the Underground Railroad's journey through Westfield. This brewery specializes in European style beers.