Midtown Carmel
Midtown Plaza in Carmel is one of our favorite places to spend a whole day in Carmel, especially in the spring and summer. It is jam-packed with outdoor fun and activities including a playground, splash pad, and sports courts. The plaza has open seating for eating, gathering, and sometimes, watching a film on the big screen. There are plenty of restaurants and shops, public restrooms, and ample street parking, as well as a free parking garage. Midtown is located right along the Monon trail so when you're done, stroll over to the Arts & Design District or rent a bike to explore up and down the trail.
Monon Greenway
96th Street to 146th Street, Carmel
Walk, run, ride your bike, or bring your pets on this five-mile section of the Monon Trail. The Monon Boulevard and Midtown Plaza are also a part of the Monon Greenway and showcase a gaming area, spray features, public art, ping pong tables, and cornhole.
Laser Flash
617 Third Avenue SW, Carmel
This place is huge! Laser Flash is home to Indiana's largest laser tag arena at over 7,000 square feet and offers laser tag for ages 7 to adult. If you need to take a break from gameplay, check out the arcade or grab some pizza! You are guaranteed to work up a sweat, my son needed drinks and a place to sit in between play. There is a viewing deck where you can watch everything going on if you aren't in there experiencing it firsthand.
Hoosier Heights
9850 Mayflower Park Drive, Carmel
"If they can walk, they can be on the wall!" Whether your skill level is beginner or experienced, Hoosier Heights has something for everyone. This indoor climbing facility offers climbing walls for all levels, fitness training, and a dojo for all ages, making it a great option for family fun together.
Little Village Playroom
9850 N. Michigan Road, Carmel
An indoor playspace, Little Village Playroom features kid-friendly and interactive activities such as painting, story time, dancing, yoga, music, and so much more! For parents, there are places to sit, free wifi, and coffee for those parents that need to get some work done while their kiddos play in a safe space. It's a win, no matter how you slice it! Littles are sure to love the child-sized play kitchen and market, train table, puppet theater, and the sensory activities offered here. Open play and camps are available by reservation.
Off the Wall Sports
1423 Chase Court, Carmel
Off the Wall Sports in an indoor soccer and flag football facility. They offer camps or classes, for everyone from 18 months to adult. If you're not a member, you can still drop in! Access to a small indoor rock climbing area and inflatable bounce houses are offered at a very reasonable price.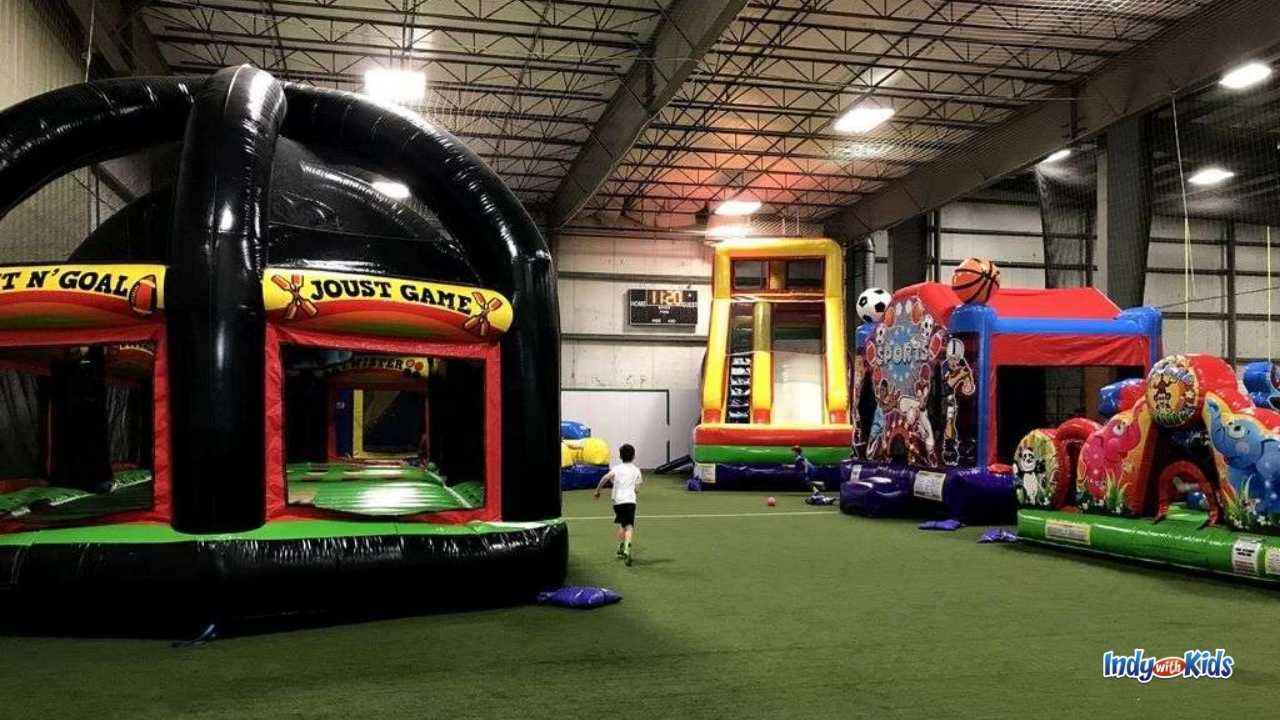 Gymboree
12524 N Gray Road, Carmel
Gymboree is known for its play-and-learn philosophy and its fantastic programming for babies and preschoolers. But did you know the open gym times are available nearly every day? It's a fantastic way to get out and play with other children, enjoys favorite pieces of equipment and toys, and run and jump in ways kids can't at home. Especially during this cold Indiana winter.
Center for Performing Arts
1 Carter Green, Carmel
Encourage children to become engaged in the arts; take in a show or make one yourself! The Center for Performing arts houses the Palladium, the Tarkington, and the Studio Theater, meaning there are several options for theatre experiences. Enjoy a musical or theatrical performance or take one of their hands-on classes. Or, spending time in the Great American Songbook Exhibit Gallery, which is free to visit during normal operating hours.
Ice Skadium
1043 3rd Avenue SW., Carmel
The Carmel Ice Skadium is an indoor ice skating rink with open skate, skating lessons, hockey lessons and leagues, figure skating, private lessons, and a fun option for cosmic skating. Snacks are available to purchase and they have a small arcade to use when you are taking a break from the ice. The windowed viewing area in the lobby is a good spot to rest and watch all the rink action, but there are also heaters in the benches on Rink 1 to keep spectators cozy.
Penn + Beech Candle Company
145 Elm Street, Carmel
Create a candle together at Penn + Beech Candle Company! You can experience all the scents the store has to offer, share your favorites with each other, and choose up to three to include in your own personalized candle. This is a great bonding experience and activity. Bonus, you go home with a delicious-smelling and useful souvenir of your time together.
Museum of Miniature Houses
111 E. Main Street, Carmel
The Museum of Miniature Houses  is not just for kids that like dolls! Miniature houses are not dollhouses. Instead, they are exact replicas of the real thing only on a much smaller scale. Regular exhibits featured here include 15-20 complete furnished houses, partial scenes, and other temporary exhibits. Children love the fine detail of the mini replicas, while pretending they are giants looking at the exhibit! Museum entry is reasonable and they provide a free audio guide, scavenger hunts, and magnifying glasses to enhance the experience.
Monon Community Center
1195 Central Park Drive W, Carmel
If your family loves water, The Waterpark at the Monon Community Center is a place you need to visit. Unlike most pools, this water park is very park-like with lots of green space to dry off and enjoy a warm day. They even have rentable cabanas. But if all you want to do is enjoy the water, there is so much to do! Two large slides, multiple splash areas, a wave pool, and my personal favorite, the lazy river. Concessions are available, but they also have picnic tables if you want to bring your own. In the winter, they also have an indoor activity pool in the Monon Center; day passes and memberships are available.
Cool Creek Park and Nature Center
2000 E 151st Street, Carmel
Need to burn some energy? The playground at Cool Creek Park has thirteen slides and several swing and climbing options. Bring the bikes and go for a ride on one to the scenic roads through the park or stomp around through the four miles of wooded trails with a creek, where you can participate in a wonderful pastime of creek stomping. Finish the day by checking out the seasonal nature-themed exhibits located inside the Nature Center.
Coxhall Gardens
11677 Towne Road, Carmel
Coxhall Gardens feels like a hidden gem, because it is never too crowded. With 125 acres of gorgeous grounds featuring bike trails, a fishing pond, amphitheater with fountains, and three gardens it's easy to spread out. They have a special Children's Garden with a rainbow-colored walkway throughout, building facades, tunnels, and lots of natural surfaces to explore. Bring a kite and a picnic and make a day of it.
Lawrence W. Inlow Park
6310 E. Main Street, Carmel
Bring a towel and change of clothes, because the kids are going to want to hit up the splash pad here. When they're done splashing, Inlow Park boasts three playgrounds, surrounded by woods, that offer a variety of play options. Bring your sunscreen and water because depending on the time of day, there may not be a lot of shade around the play areas. There is also a 9-hole mini disc golf course if you have your frisbee handy.
Westermeier Commons
(formerly West Commons) 920 Central Park Dr W, Carmel
Walk the six miles of trails through three different habitats, roll around the skate park, bring your pooch to the dog run, play on the playground, and enjoy the splash pad. Westermeier Commons has more than 25,000 square feet of playground space area to enjoy, so your kids can spend hours on the playground alone. The playground has things for kids of all ages and abilities, and mud free playground surface makes it a great option for a muddy day!
MyArt Carmel Art School
841 South Rangeline Road Suite 300
Let your little artist explore their creativity at MyArt, with a workshop, camp, or canvas painting event. These are great for everyone, with instructor-led activities to bring out the inner artist for every skill level. All activities are available for ages 5 and up and registration is required.
A Sewing Studio
12775 Horseferry Road, Carmel
Support your little fashionista's passion by teaching them to sew! A Sewing Studio offers weekly classes, in which students learn terminology, machine skills, hands-on use of a pattern, and project assembly. Classes are available for children ages 7-16, with occasional workshops for adults offered. While most classes are ongoing, there are one-time classes available. Check out their website, they fill up fast!
Sprouts Cooking School
13190 Hazel Dell Parkway, Carmel
Is your kid obsessed with a cooking challenge show? Do they always want to help in the kitchen? Here's your chance to inspire your budding chef, while teaching them useful life skills.  Sprouts Cooking School for kids has equipment perfectly sized for children, helping them to build confidence in the kitchen. Not only do they learn kitchen skills and get to make their recipes in-class, they also take their creations and a recipe card home to share. Check out their website for their full line-up of classes for families and children ages 3 and up. Reservations are required as the classes are small and intimate!
Clubs and Lessons in Carmel
Carmel Wrestling
520 E Main Street, Carmel
If your kiddo needs to be super active, wrestling is an excellent choice to consider! Wrestling helps with coordination, body awareness, balance, and building core strength. This awesome cardio activity, Carmel Wrestling has camp options as for children as young as kindergarten, all the way through Eighth grade. Strength training also available here for ages 9 and up.
Goldfish Swim School
271 Merchants Square Drive, Suite A-110, Carmel
Swimming is a great activity to keep the kids active year-round, and the pool at Goldfish Swim School is kept a "shiver-free" 90 degrees year-round. The training and instructors here inspire water safety and confidence for the entire family. Classes are available for children 4 months to 12 years old, and they even offer a competitive swim team for the more advanced swimmers. If you want to test the waters, check out their website for the family swims, usually available on Friday or Saturday nights.
B2R Bach to Rock
2480 E. 146th Street, Carmel
Is there a future rock star or DJ in your household? B2R offers musical opportunities for everyone, from toddler to teen, beginner to experienced. You can take individual music lessons in guitar or bass, voice, drums, piano or keyboard, traditional instruments, and even DJ lessons. Group lessons are also available for DJs, rock band, glee club, piano, drums, ukulele, and guitar.
Code Ninjas Carmel
2436 East 146th Street, Suite A112 Carmel, IN 46033
Do your kids love video games? Take advantage of that passion and expand their knowledge on the science behind the game! Code Ninjas offers online and in-person classes to develop coding skills and create video games for ages 5-14. Occasionally Code Ninjas offer a Parent's Night Out where kids can play games, assemble puzzles, build robotics, and more.
School of Rock Carmel
626 S. Rangeline Road, Carmel
Learn the ins and outs of your chosen instrument, as well as how to perform like a rock star! School of Rock will foster your child's self-confidence and encourage collaboration in a group while performing. In-person classes and camps available for ages 7-18, as well as online for all ages.