A great suburb north of Indianapolis, Fishers is one of the fastest-growing suburban communities within Indiana and the United States. This growing town has affordable homes, a diverse population, delicious restaurants, great healthcare, lots of family-friendly parks, and an excellent school system. Each year Fishers continues to amaze families with its new and innovative additions to the town.
With the number of new families moving into Fishers and the Northside of Indianapolis, there's no doubt a surge of family-fun activities to explore around town. Whether it's a staycation, getaway or simply wanting to go out and explore, Fishers no doubt has an incredible list of kid-friendly attractions that will have you and your kids wanting to explore more within this incredible town.
Here's our list of favorite places to explore with kids in Fishers.
Indoor Activities
Pinheads Bowling
13825 Britton Park Road, Fishers
It's a rainy or snowy day, your kids are bored, and you would like something to get their energy out, why not head to the bowling alley? Pinheads Bowling is not just a fun place to bowl, the facility offers a luxury arcade, XD Dark Ride, Birthday Parties, Private Suites, Bowling leagues, and Tournaments. Pinheads offers great deals throughout the week like half-price Thursdays and fun day Sunday's. If you want something groovy, try their cosmic bowling every Sunday from 2pm-10pm. Pinheads is a great place for family fun.
K1 Speed Indoor Go Karts
9998 E 121st Street, Fishers
Indiana is home to one of the greatest tracks The Indianapolis Motor Speedway, K1 Speed brings a professionally designed track for fans to enjoy from the comfort of their indoor facility. The Track features one of the longest straights with lots of twists to challenge junior and adult drivers. K1 speed go kart is ideal for older kids with a minimum height requirement of 48". There is also an arcade, eatery and Junior Birthday parties can be held. K1 Speed is a great place to spend family time with teens and older children.
Adrenaline Family Adventure Park
10080 E 121st Street Suite 182, Fishers
This isn't your typical Trampoline Park; Adrenaline is a great place for a new adventure. If you're looking for a place to take the kids to get all that energy out, then Adrenaline is one of the greatest places to go. It's one of the largest indoor fun parks in the State, featuring 50,000 square feet of pure adventure. The park features trampolines for jumping, a climbing wall, jousting, a ropes course, warped wall, giant inflatable hamster ball and an all sports course. A great place for everyone in your family of all ages.
Fuel Tank at Fishers
9022 E 126th St, Fishers
Fuel Tank at Fishers provides a fun way for family to bond with ice skating. Whether it's summer or winter, the arena is open to those who want to do something a little different with kids. You can bring your own skates or rent skates, Public skate sessions are held daily, but be sure to check out their website for a live schedule. Classes are also held at the arena for anyone who wishes to learn basic ice skating or figure skating.
My Gym Fishers
10290 E 96th Street, Fishers
"Moments that Matter" is My Gym in Fishers motto, My Gym fishers offers a fun way for babies through ages 10 to play actively while also engaging parents in the playing. Within each age group there are different classes that are designed for each child's ability. My Gym hosts various events for each age group that are a "blast" and various camps for when schools out. My Gym is "simply the best" for children to engage in fitness games, gymnastics, arts, and music.
Code Ninjas
11501 Geist Pavilion Dr Suite 112, Fishers
In today's world, kids are learning all sorts of new technology. At Code Ninjas kids can learn to code while building their very own video game. Code Ninja strives on it's game-based curriculum that both kids and parent's love. Kids learn valuable technology skills all while having fun. Code Ninja provides various classes for each age group. They also have camps where kids learn to coding, game building, STEM, and robotics.
The Escape Room
8890 E 116th Street, Fishers
A relatively new game that started in Japan and made its way to the US around 2013. They have become one of the greatest adventure games recently. The Escape room is a game in real-time and takes place in one of the many themed game rooms. The Escape room provides a great way for families to bond and connect all while trying to solve the mysteries to make it out. It's a great way for team building, problem solving and getting to really know one another. It's an ideal place for families of older kids and teens, kids who are able to read and help solve the mysteries.
My-Art Fishers
11720 Olio Rpad #300, Fishers
Do you and your child have an artistic side, whether you do or not, My-Art Fishers offers introductions to drawings, paintings and how to use the different forms of art to make a masterpiece. My-Art fishers offers classes, birthday parties and art parties for the artist in your family.
Ignite Art Studio
5 Municipal Drive, Fishers
An art studio and makerspace designed for those who want to create beyond the depths of paper and colors. Ignite Art Studio provides unique ways to experience and make art for all ages and abilities. Ignite art studio offers a fab lab that houses two 3D printers, a maker area to create works of art using paint, crayons, Legos, fabric and much more. Also, art in a Digital form through their Digital Media lab. This space is a great place for residents to get creative and let their imagination create masterpieces.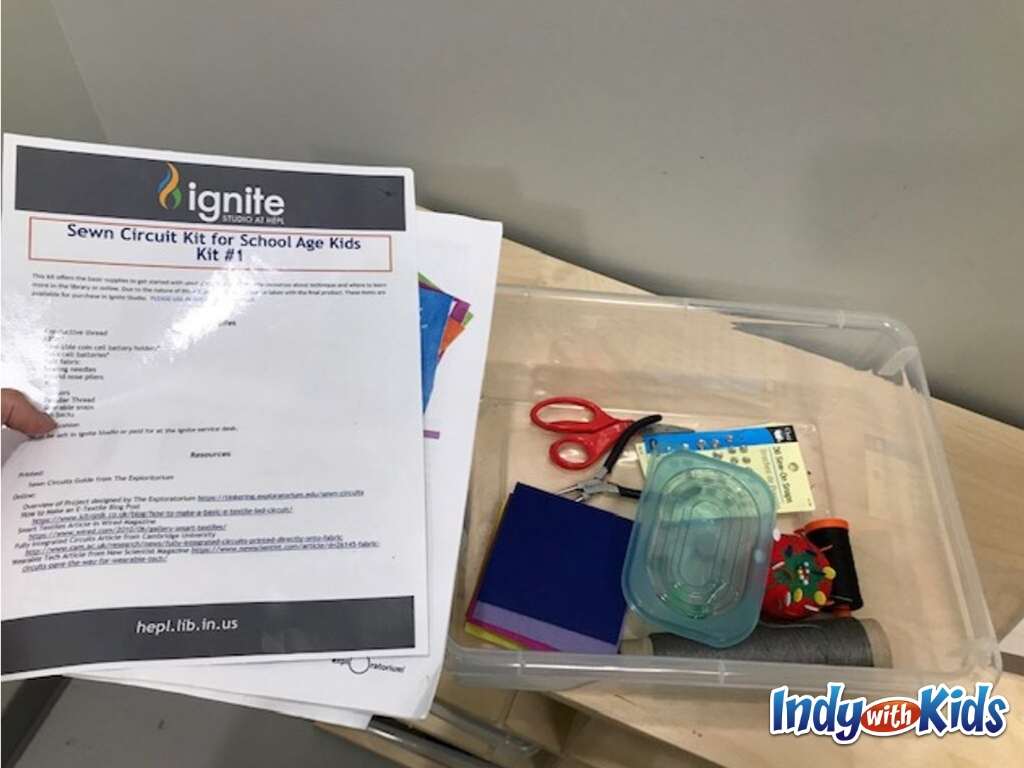 Tabby Tree Weaver
9832 N by NE Boulevard, Fishers
A shop full of unique and colorful weaving supplies, Tabby Tree Weaver is also a great place to learn a new skill such as weaving. If you're looking for something different to do with family? try a beginner Weaving class at Tabby Tree Weaver.
The Art Gallery at City Hall
1 Municipal Drive, Fishers
Admire works of art on display at the Art Gallery at City Hall. Artists display their new works of art each month for admirers to enjoy. It's completely free and a great way to spend time with family.
Outdoor Activities
Conner Prairie
13400 Allisonville Road, Fishers
There's so much to see and experience at conner prairie. Step back in time and savor history at Conner Prairie's historical façade. Enjoy a ride in the air on the Balloon Voyage, discover great heights at the Tree top outpost, enjoy a serene walk through the town or step inside to the discovery station equipped with areas for all ages.
Top Golf
9200 E 116th Street, Fishers
Experience golf like never at Top Golf in Fishers. Top Golf offers sports entertainment using high-tech golf that is suitable for everyone. Kids, teens, and adults can all play safely from the comfort of their bay, each golf bay can accommodate up to 6 people. The venue can accommodate kid and teen birthday parties and small and large groups.
Saxony Lake & Beach
13358 Pennington Road, Fishers
Saxony Lake & Beach offers visitors a piece of paradise in the heart of fishers. The 20-acre lake and 300-foot beach are all made from Indiana sand, children can enjoy making sand castles all while parents soak up the sun.
Ritchey Woods Nature Preserve
10410 Hague Road, Fishers
Located in the heart of Fishers, Ritchey Woods Nature Preserve is a great place for families to get away from tech and enjoy the great outdoors. The park boasts nine nature trails perfect for exploring what nature has to offer. Ritchey Woods is also home to the Fishers StoryWalk, where you can enjoy a new story each month while strolling through nature.
Cheeney Creek Natural Area
11030 Fishers Pointe Boulevard, Fishers
Cheeney Creek is a secret wildlife oasis ready to be explored by visitors. Bring your fishing pole to the 3-acre pond to catch largemouth bass, bluegill, and channel catfish. There are woodland trails for those who love nature to explore and sight new birds. A great place to get away from the hustle of the city and into a piece of green space.
Fishers AgriPark
11171 Florida Road, Fishers
A sprawling 33-acre urban farm, AgriPark features gardens, and public fields where residents can access seasonal produce, fresh-cut flowers, and encounter livestock. There are mud kitchens and play spaces for children to discover, an amazing innovation to the town of Fishers.
Nickel Plate District Murals
6 Municipal Drive, Fishers
The town of Fishers is full of surprises and one extraordinary one is the beautiful murals throughout the Nickel Plate District. Each mural boasts bright colors, and each represents an aspect of the town of Fishers. A great family adventure to discover a large form of art and an Insta-worthy one as well.
Nickel Plate District Trail
6 Municipal Drive, Fishers
The city announced in early 2020 that the Nickel Plate District will have trails for residents and visitors to explore. The trails will be completed in phases, so far phase one has been completed and will feature five segments. You can explore the first completed phase of the nickel plate district through its trails, the trail will feature an array of restaurants, shops, and works of art to discover in the heart of Fishers.
Flat Fork Creek Park
16141 E 101st Street, Fishers
A park that can be used in all seasons, Flat Fork Creek Park is well known by locals for its 60-foot sledding hill that is used every snowy season by children and their families. The park also features trails, a fishing pond, and an ADA-accessible treehouse that's perfect for soaking up nature and wildlife.