Whether you just adopted a new pup, or have had a long-time best friend who has taken a backseat after you had kids, sometimes you gotta make time to hang with your dog! It can be hard to figure out whether to bring your dog with you and which establishments are dog friendly. If you love to take your pups with you when you can, you're probably always looking for new ideas of places to take your dog. Lucky for you, I've compiled a list of 50 Dog Friendly Activities Near Me with things to do and places you can take your dog with you in Central Indiana!
Discover 50 Dog Friendly Activities Near Me
Agility Course
Test your dog's capabilities and build their confidence on an agility course! The dog parks at Eagle Creek State Park and the Humane Society of Indianapolis have great agility courses with ramps, tunnels, and hurdles to train and exercise your dog.
Wine Tasting
Almost all wineries are dog friendly in Central Indiana. You can enjoy a glass on the patio next to your pup at Urban Vines or Mallow Run. You can even bring your dog into the tasting room at Peace Water Winery!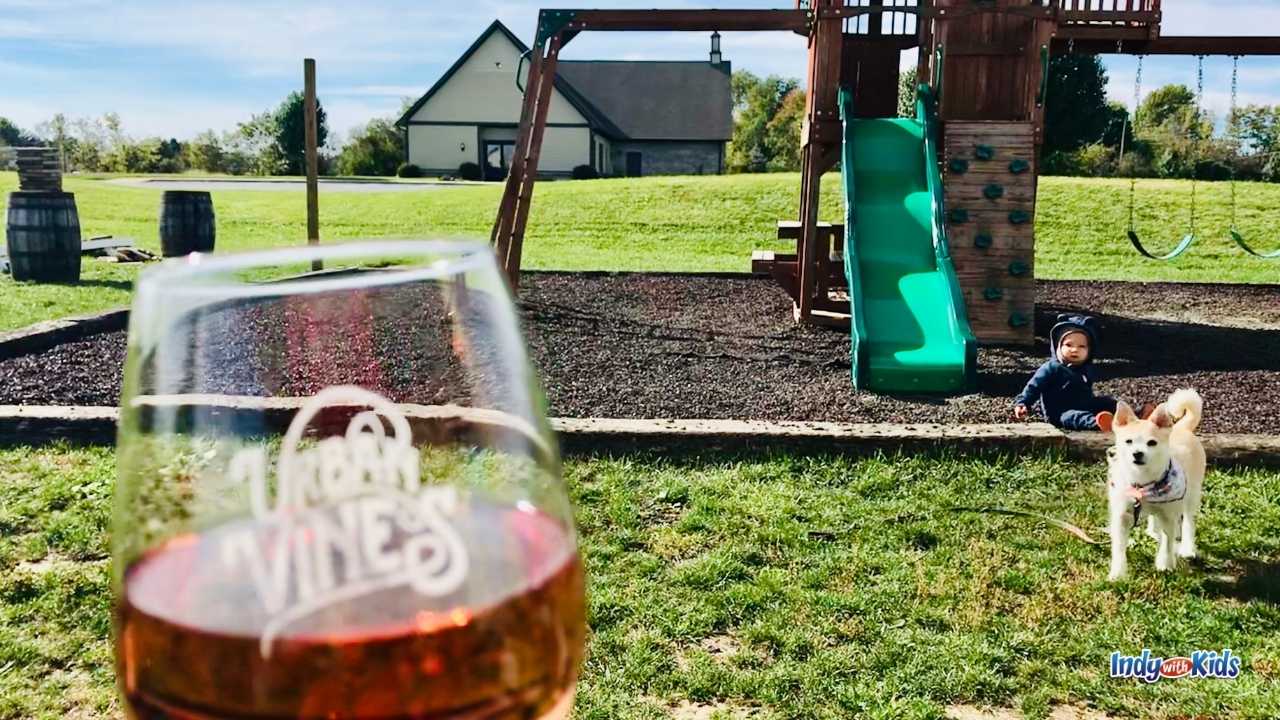 Hiking State Parks
Visit state parks with your leashed pup! Fort Benjamin Harrison State Park in Indianapolis offers hiking, sledding, fishing, and more. For more rugged and much more scenic hikes, make the drive to Turkey Run or Salamonie State Park.
Train Ride
Travel by railway to Chicago or just go for a scenic tour within Indiana. Many trains are dog friendly, including Amtrak. There is a station right in downtown Indianapolis.
Mutt Strut
Strut your mutt in the biggest spectacle in dog walking! The annual fundraiser for the Humane Society of Indianapolis takes place in Indianapolis along with White River. Runners, walkers, and even strollers are welcome at the annual event.
Farmers' Market
Spend Saturday mornings picking up your vegetables for the week with your dog at the farmer's market. Most markets are dog friendly. Check your local Farmers' Market for guidelines and restrictions for bringing your furry friends.
Hide and Seek
If you are stuck at home, there are still some fun things to do with your dog! Try a game of hide and seek. Dogs are really good at finding you so hide under blankets and make it harder to get to you. Have training treats ready for when they find you.
Bark in the Park
The Indianapolis Indians host Bark in the Park events a couple of times each summer inviting friendly dogs to enjoy a baseball game! Dogs must be registered in advance and are welcome in the lawn area.
Pints and Pups
Beer and dogs. What more do you need? On a nice summer day, you can sit outside with a cold beer and your best friend as most breweries allow dogs in their outdoor spaces. Metazoa Brewing Company allows dogs inside and even has a dog park on-site!
Dog Parks
Check out your nearest off-leash dog park so your pup can run wild with other dogs. Clay Terrace has a small dog park that's free and open to the public. Many other larger dog parks like Broad Ripple, Eagle Creek, and the Humane Society of Indianapolis may require a membership or have a daily fee.
Walk in the Woods
Go off trail and walk through the woods with your dog. They'll love all of the smells and different terrain. In the summer, it's nice to have some shade as you explore. I've really enjoyed going off-trail Flat Fork Creek Park.
Midtown Carmel
There are restaurants, sports courts, movies, music, a playground, and more at Midtown in Carmel. Best of all, it's all outside and it's dog friendly! Midtown Plaza Carmel located right on the Monon Trail so you can take a walk before or after your visit.
Monon Trail
With miles of paved trails running through Central Indiana, the Monon Trail is an excellent spot to go for a long walk with your dog. There are several spots to park your car along the trail and jump right on.
Kayak
Did you know you can kayak on the White River? Did you know you can bring your dog along? Rent a paddle boat or kayak in Broad Ripple at Rusted Moon Outfitters for a fun day on the water.
Pontoon Day
Rent a pontoon for the day at a local marina. Dogs are allowed on most boats! You can buy a dog life jacket to be safe. My dog even went tubing behind the boat. He's an adventurer 🙂
Visit Nursing Homes
You may not be able to go in, but nursing homes have windows! Walk by quarantined people or nursing home windows to wave at those who are stuck inside. Everybody loves to see cute dogs.
Pedal Boat on the Canal
Wheel Fun Rentals offers pedal boat rides on the canal downtown and you can take your little dogs with. Pedal up to the Colts Canal Playspace and jump off to play at the park for a little bit.
Go Shopping at Lowe's
Doing home renovations? Spending a lot of time at hardware stores? Bring your pal with you. Dogs are welcome to tag along at Lowe's as they're all concrete floors and there's no food for sale. They can sit in the cart or walk beside you as long as they stay on a leash.
Play in the River
I've enjoyed going off the Monon Trail by the bridge, just north of the Indianapolis Art Center in Broad Ripple to walk through the woods and down to the water. Dogs can explore and play in the White River here. Another nice hike down to the river is through Holliday Park.
Chase Waterfalls
Last spring we embarked on a waterfalls tour in Indiana and took our dog along with to every single one. He loved swimming in the water at Williamsport Falls and jumping from rock to rock at McCormick's Creek State Park.
Marengo Cave Tour
Explore the marvelous caves at Marengo with your dog! Dogs small enough to be carried the entire time are welcome inside the caves! They are also welcome on the rest of the park grounds.
Volunteer
If you have a really well-behaved dog who loves people, you might consider getting them certified as a therapy dog. Therapy dogs work at schools, libraries, hospitals, retirement centers, etc. They will perform a very important duty while being fawned over and petted and praised. Win-win!
Fall Hayride
Hop on a hayride to pick out your pumpkins at a local fall festival. Some are pet-friendly. Check out the fall fests at Spencer's Farm or Lions Park where I've brought my dog along!
Treadmill
Teach your dog how to walk on the treadmill. When it's freezing cold outside and you can't go for a long walk, your dog still needs exercise. Teach them to walk on the treadmill and they can become your workout buddy!
Spa Day
Bring your pooch to a do-it-yourself washing station inside a pet store for a long overdue washing. Washing stations include shampoo, towels, dryers, and collar hooks. Some places even offer nail trimming. Pick your doggie up a treat when finished.
Photo Shoot
Stage a photo shoot for your pup! Find some great backdrops and cute gear and click away! Even better, get dolled up yourself and hire a professional photographer to shoot you with your dog.
Shopping Spree
Upgrade your pup's wardrobe! Head to a boutique pet store to find a cute new outfit or accessory for your dog to sport. Visit Hollywood Feed for the latest in canine fashion.
Mud Day
After a big rain, take your dog out for a good old mud day. Get dirty, run through puddles, and let your dog play in the mud. Just make sure you prepare your car beforehand and bring lots of towels! Maybe even stop at a washing center before you go home!
Go for a Joyride
I don't know what it is, but dogs love to go for a ride in the car and stick their heads out the window. It doesn't matter where you're headed, just find an open road and let your dog feel the wind in their hair.
Mani-Pedi
If you have a calm dog who'll let you pamper her, give her a fresh coat of polish for her nails! Paint yours and your daughter's to match. Instant at-home fun!
Get Schooled
While it's always best to train your puppy early, it's never too late to register for an obedience course. Puppies can learn basic commands and older dogs can brush up on skills while owners master communication strategies. Check out the Indianapolis Obedience Training Club for basic and advanced obedience classes.
Doggie Daycare
Especially when the weather is yucky, dogs need somewhere to let their energy out and run wild with other dogs. You can drop your dog off at doggie daycare all day while you are at work and they'll be happy pooped pooches for the rest of the night. Check out Camp Bow Wow, Club Canine, or Dogtopia!
Walking City Tour
Head to downtown Indianapolis for a walking city tour. Check out the circle, White River State Park, and walk up and down along the canal. There are plenty of gardens, grassy areas, art installations, and bridges with great murals under them along the way.
Cultural Trail
The Indianapolis Cultural Trail connects all six of Indianapolis' cultural districts and runs through historic neighborhoods, art projects, and entertainment amenities. The 8-mile biking and walking trail is completely dog friendly so grab your partner and explore your city!
Doggie Playdate
It's important to socialize your dog young. Find a friend with a pup and set up a doggie playdate. Meet at a dog park or at someone's fenced-in yard and let them wrestle and run around and play like they're supposed to.
Rescue Group Reunion Parties
Adopting a pet is a wonderful thing. The people and animals involved are eternally grateful. Many rescue groups have reunion parties that you can attend. If they don't, maybe you can plan one!
Paw Print Art
Use your dog's painted paws to make beautiful artwork. Have your kids trace their pet's paw print. You could also make a paw imprint each year like you do a height chart with your kids.
Fair Oaks Farm
About 2 hours from Indianapolis is the Midwest's top agricultural tourism destination. Fair Oaks Farm offers a hotel, adventure center, tours, and a dog park. It's a popular pit stop between Indy and Chicago where you can get out and let your dog stretch. The hotel is pet-friendly as well.
Paint Your Pet
Many art studios offer a Paint Your Pet event. Some even allow you to bring your dog for inspiration! It's also something you could try to do on your own at home.
Sledding
Going sledding? Bring your dog with you! They love to run up and down the big hills and play in the snow. More adventurous dogs could even go down in the sled with you!
Fishing
Dogs are great companions when fishing and they love being outdoors. Try the stocked pond at the Monon Community Center and go for a nice nature walk on the path that meanders through the park beforehand. Discover some of our other favorite places to go fishing around Indianapolis.
Photos with Santa
Several holiday photo setups have certain days where you can have your pet's photo taken with Santa. Pet Smart and the Fashion Mall have had a special day for dog photos in the past.
100 Acres Park
Explore woodlands, wetlands, meadows, art installations, and the shoreline of a 35-acre lake at the Virginia B. Fairbanks Art & Nature Park. Your doggie will love exploring one of the nation's largest museum art parks and smelling all the smells of nature!!
Egg Pawlooza
Westfield puts on a spectacular annual Easter egg hunt just for dogs. The dogs need to touch the egg with their nose before their humans can pick them up. It is great fun for the whole family.
Dog Treats
Try your hand at making homemade dog food and dog treats. Have your buddy be a taste tester to help shape future recipes!
Bike rides
Does your dog have more energy than you know what to do with? When walks aren't enough, try teaching your dog to run alongside you as you ride your bike. If you're scared maybe start with a scooter.
Drive-Thru Treats
Going out for a quick errand? Bring your dog with as many establishments have special treats for furry passenger seat companions. Starbucks offers a Puppucino. Dairy Queen has Pup Cups. Even banks have given my dog treats when I drive through.
Birthday Pawty
Throw your pup a birthday party! Invite all of their canine friends to a fenced-in yard or dog park and let them play. You can even serve dog-friendly cake and sing Happy Birthday!
Treat Ball
One of my dog's favorite activities is to roll around his treat ball. Every so often a little treat falls out so it encourages him to keep pushing it around the house. He gets lots of exercise and has a lot of fun working for his treats. Get one and try it out with your dog!
Garfield Park Conservatory
Experience indoor and outdoor gardens at one of the nation's largest botanical conservatories. The Garfield Park Conservatory features a 10,000-square-foot tropical conservatory, a three-acre sunken garden, and a children's garden. Dogs are allowed everywhere except indoors.
Make Your Own 'Dog Friendly Activities Near Me' List
Now that you've got some great new ideas on things do to with your dog, make a bucket list of the activities you want to do and places near you that you want to visit! The great thing about dog friendly places to visit and things to do is that most are also kid-friendly! You can make it a whole family affair or you can carve out some time for just you and your pup. Make sure to double-check with each establishment before heading out with your dog as restrictions are subject to change.